Last week I went to a seminar on communication skills in the workplace – specifically based on understanding different personalities and then learning to interact more effectively given those differences.
I've taken half a dozen personality tests over the years, and this one said what all the others have. Pick your test and I'll qualify as a beaver/golden retriever, a melancholic/phlegmatic, conscientiousness/steadiness, INTJ, technical/sympathetic…You get the idea. What all this self-analysis boils down to for the purpose of this blog post is that I tend to be task oriented (instead of people oriented). I set a goal and then find the most prudent way to accomplish it – usually by myself since other people tend to get in the way. 🙂
There. I've confessed.
Since my focus is usually on destinations – short and long term – I find that God needs to remind me regularly that destinations are ultimately His concern. Sometimes we just leave the Big Destination up to Him and figure we'll handle the ones on this side of the new earth – career, marriage, family, friendships, retirement, etc. Fill in the blank.
If you're anything like me – and I don't mean a conscientious, melancholic beaver with a critical eye for detail – you have probably "arrived" at a few destinations that were, well, disappointing. Maybe your degree didn't land you the job you expected. Maybe your spouse isn't quite what you hoped for. Maybe your dream house isn't. Maybe your friends are too few and far between. Maybe your retirement isn't possible.
I was thinking about these things the other day when I was hiking by myself in the woods on Lummi Island, an easy getaway for those of us on the Edge of Nowhere, USA. From the (very) limited research I did before going, I had the impression that the hiking trail I was on would take me to the highest point of the island and then offer a to-die-for panoramic view of the San Juan Islands to the west and Bellingham to the east. So, I threw on my backpack, started up the path, and looked forward to reaching the top, where I would eat my PB&J sandwich, take in the view, and head back down.
I had been warned that the first 15 minutes were steep – this was from the gal who gave me a tourist map of the island and told me the hike was 1.5 hours round trip. After a steep climb that lasted more than 15 minutes and an endless trail beyond that offered few flat stretches, I was pretty sure my information source had never actually been on this trail. Trail markers were almost non-existent, the woods were dense and deserted, and the trail just kept going up. Long past the point I thought I might die and be eaten by wildlife before anyone discovered me, I reached a designated overlook. Climbing between trees to get to it, I wondered if I had arrived. I snapped a few pictures and looked in vain for signage that said, "This is it! You've made it!" I also noticed that the trail kept going (up, of course) beyond the overlook.
Given that my expectations were the top of the island and a sweeping panoramic view, I confess to being disappointed that this was "all" I saw (I didn't take pictures of the trees on either side and behind me).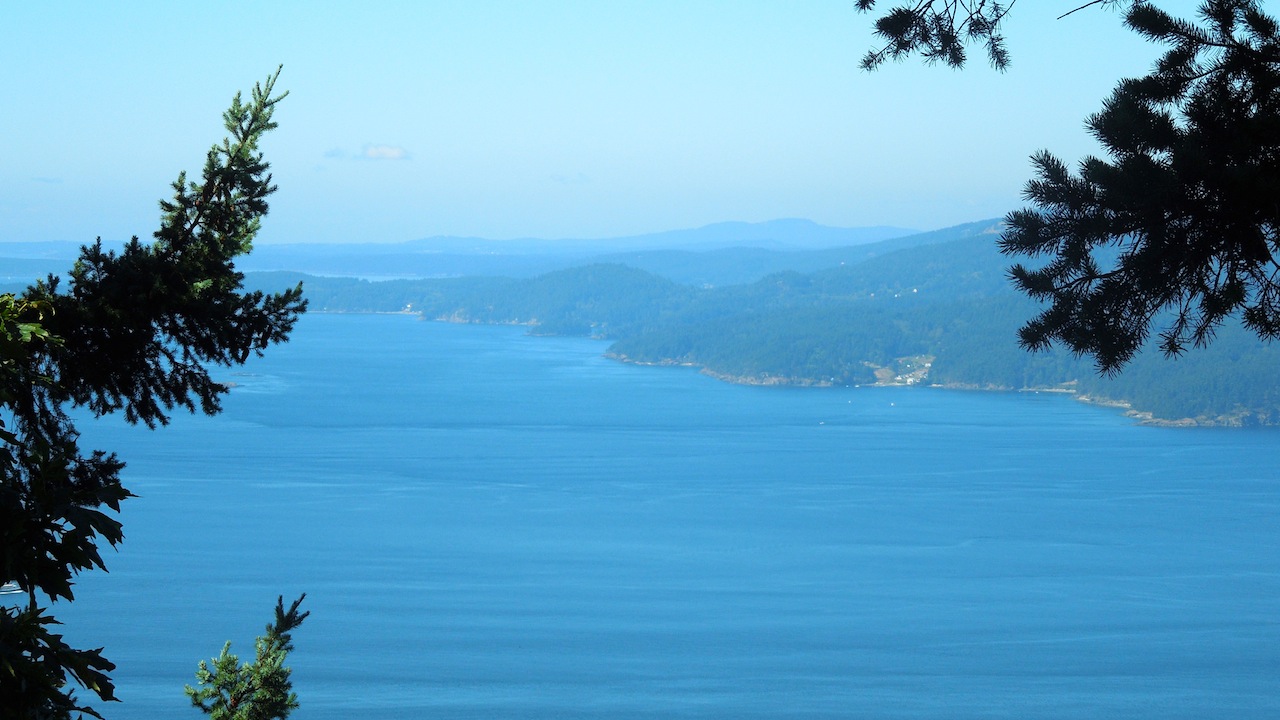 Surely I hadn't reached my destination yet. I kept walking. Up. And I grumbled. About 10 sweaty minutes later, I decided I'd had it. I turned around and headed in the blessed direction of "down," eating my PB&J sandwich en route.
For most of the trek back, I thought about journeys and destinations. My entire hike had been focused on the destination, which, I later learned, was the west-looking overlook. I admit, I had expected more – at the very least, a sign making it clear that I had arrived. Instead, I wondered if there was more, if I had missed something better that I would have found if I had just persevered on the trail.
The truth is we don't know what lies ahead – nor if we'll even get there. We can't ever be sure of reaching a particular "destination," much less having it be what we expected. What we do have is the trail around us – the present. And it's full of a beauty all its own, though it may not be the breathtaking beauty we're anticipating at the trail's end.
God really is in charge of destinations – all of them. And we would probably do well to expect that none of them this side of glory will meet our perfect-world expectations. We just have to wait for that. And while this beaver waits, she's going to work on paying closer attention to the journey.
(I later learned that the trail ended at the densely forested top of the mountain a couple miles beyond the overlook…and after half a mile of bush-whacking.)